Change a battery of a Roomba in 4 easy steps
To change the battery of the Roomba 500 only we will be necessary a star screwdriver.
Step 1
First we will give the return to our Roomba and we will unscrew the central screw of the lateral gyratory roller to proceed forthwith to extract the above mentioned roller.
Step 2
Later we will slacken 4 screws that are a bit bigger than the rest and that also are located in the low part. Two of them in the front part and other two approximately for the half zone of our device. Once we have removed the screws will lift the battery cover.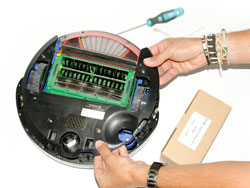 Step 3
We pull both tapes of green color and already it is, already we have the battery ready to be changed.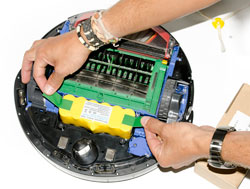 Step 4
It has come the moment to put the new battery and to return to realize the whole process of inverse form.
To place the battery, to place the lid and to press the screws, to place the lateral brush and to press the screw and already the changed battery is.
Change a battery of a Roomba