Reset the Roomba battery 500 and 600 series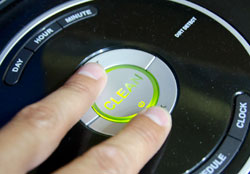 When you notice that the cleaning cycles of your Roomba start being less effective, it is possible that your battery is beginning to show signs of exhaustion. For it, the Roomba has a procedure of regeneration of their batteries that also works with our compatible batteries. This procedure is named in some web sites as the reset of the battery.
If we make this simple process occasionally, we will achieve that the battery recovers and that the useful life of our battery gets longer considerably.
Steps to follow
Turn on your Roomba by pressing the button "Clean"
Keep pressed during 10 seconds the buttons "Spot" and "Dock" that are placed above and under the button "Clean"
Release the buttons at the same time and you will hear the typical sound of beginning of the Roomba
Put the Roomba to load for at least 12 hours or until it puts in green on the button of "Clean"
It's simple. Do it if you have noticed a decrease in the cleaning cycles of your Roomba.
We you want to remember that it is very important to keep the rollers of the Roomba clean, since the dirt does that it cost to move them and consume much more energy than necessary. Our advice is that you clean the brushes of your Roomba at least once per week and the whole robot once a month. Thus, you will achieve that it lasts very much more time working perfectly without giving you any problems.
To see also our advices to prolong the useful battery life.